Banksy is one of the world's most famous Street Art artist. In July 2019, this anonymous graffiti artist was even named Britain's favorite artist, leaving Leonardo da Vinci, Pablo Picasso and Claude Monet behind.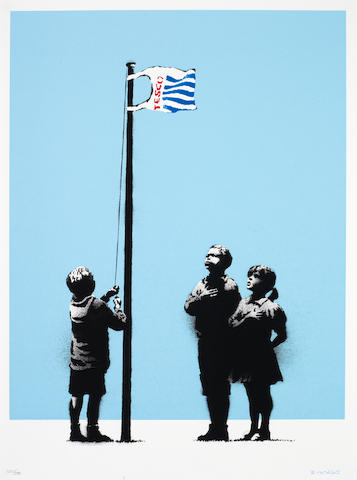 Banksy's Mystery
His identity remains a mystery to this day, but his work is considered very recognizable.
Recently, another record price has been paid for a Banksy artwork. Show Me The Monet became the second most expensive Banksy painting ever sold at auction, selling for £7.5 million at Sotheby's. This record price confirms the incredible amounts paid for Banksy art. With prices continuing to rise, investing in Banksy's art is proving to be a good choice. In October 2021 a shredded Banksy sold for the astronomical figure of £18.2 million.
Limited edition prints from Banksy are also sold for record prices. For example, a Very Little Helps print by Banksy is worth about €120,000. While it cost around €20,000-25,000 during release. Banksy has been hiding his identity ever since he rose to fame in the 1990s. It has been speculated that his name is Robin Gunninghamlish from Bristol. That's where some security camera footage has captured him while working on a mural.
Looking to buy Street Art?
Are you looking to buy Street Art? Art Gallery Arterego has a collection of works by interesting artists. Our mission is to encourage more people to enjoy art. That is why we offer artworks for a fair price.
More Art News
Welcome to our inspirational blog packed with art trends, art curations and more art news.
Subscribe to our newsletter
Promotions, art news, and best offers. Directly to your inbox.